From The Desk Of Principal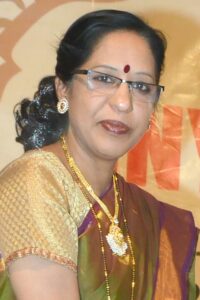 DES started its journey in the year 2010, with the aim of providing CBSE curriculum for Aurangabad for the classes I to X at pokhari.
We feel very happy to be a part of RadhaKrishna Foundation and are staunch beliefs about the progress which necessarily is holistic. We foster a positive spirit and believe in partnerships between students, parents, teachers and support staff striving to create a milieu that sustains excellence. At DES, it is always a mesmerizing experience to witness the children thriving in various streams of development and trying to reach the newer horizons of success.
Our Mission
We aim at nurturing our students into men and women, who will be leaders of distinction, committed to the spirit of excellence, through high quality education imparted by experienced and caring teachers, building strong virtues while focusing on all round development, creativity and entrepreneurship. We also aim to provide student with a developmentally appropriate education which emphasizes high academic and social expectations.
Our students and staff enjoy our school campus that is surrounded by beauty charm and adventure.
Our school has an amazing playground where each child discovers his/her true calling and unleashes dreams and hopes for the future. An array of events and activities fill up the DES calendar, subjects like- sports meets, workshops excursion, sky gazing— theme based assemblies cultural competition, debate, Elocution, interschool GK Quiz, drawing and painting, Exclusions and so other. Discipline, values and integrity are the very foundation of this school.
Parents are encouraged to check their ward's progress regularly by attending all the PTM. Students are encouraged to take advantage of the many resources available to them, their teachers, the library, the computer labs and smart classes.
We are young & hungry. We are determined to emerge as the center of excellence in academics. We encourage and groom students to be future ready in rapidly evolving and fiercely competitive world. Most importantly, we pledge to provide the best to our students soaked in Indian values and modern outlook.
Lastly, I take immense pride in acknowledging the teamwork and efforts of all students and teachers.